THOMPSON'S B Complex Tablets 100's
Our Price
Our Price:
$13.35
Elsewhere
$19.80
Elsewhere
Pre-order: Estimated dispatch
Helps to support healthy functioning of the nervous system
Aids to support the body during times of stress and tension by restoring levels of vitamins B5 and B6 that can become depleted during times of stress
Assists to maintain healthy digestive function
Helps to maintain healthy eyes
Assists to provide extra nutritional support to the diet
Suitable For:
Individuals who suffer from or prone to symptoms of stress and tension
Those looking to support a healthy nervous system function
Individuals who seek a daily supplement to provide additional nutritional support
DIRECTIONS:
Adults – Take one tablet twice daily (with food), or as professionally advised.
Use only as directed and always read the label.
Vitamin supplements should not replace a balanced diet.
If symptoms persist, consult your healthcare professional.
INGREDIENTS: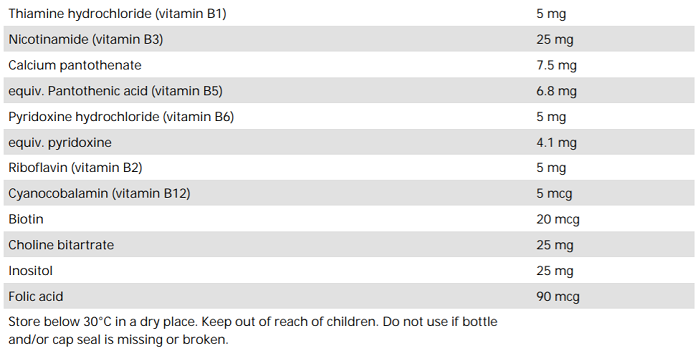 No Added: Corn, gluten, lactose, nuts, shell fish, sugar, dairy, egg, fish, sesame seed, soy,  artificial flavouring, colouring and preservatives.
Suitable for Vegetarian and Vegan use.